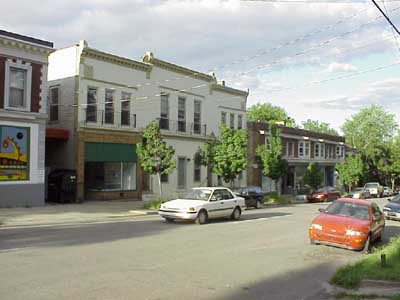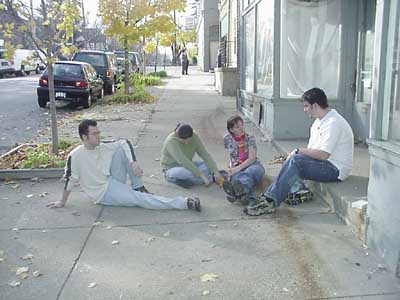 Civic on Lyon St.
August - December 1999
617 Lyon St. NE

"Those Things" will open on Thursday, December 2 at the Civic Studio project at 617 Lyon Street NE in Grand Rapids, MI. The public is invited to the opening reception from 6-8pm on the 2nd, as well as the closing discussion on the afternoon of December 17th from 2-4pm.

The exhibition is a collaborative project by 8 students from Grand Valley State University: Michelle Adams, Patrick Dunning, Daniel Fromage (visiting from Kingston University UK), Shilin Hora, David Karmann, Lisa Price, Amy Stewart, and Treisa Vendramini. The exhibition aims to interact with the surrounding area, and to open questions about the meaning of things in and out of the context of art.

The exhibition utilizes things found in the surrounding area as well as things contributed by residents from the area around the Civic Studio space on Lyon Street.

The studio process has included preliminary drawings, map- making , historical research, and documentation of other observations of the physical and cultural environment.

The Civic Studio Project was initiated by GVSU faculty member Paul Wittenbraker as a way to bring together the study of art and artmaking with rich experiences in the real world. It is an attempt to bring together overlapping interests in Higher Education and Contemporary Art. There is great and varied interest in contemporary art to interact and engage with the public in ways outside the museum and gallery formats. In Higher Education, there is great interest in learning that is rooted in experience in context through service and community-based activities and experiences. The notion that visual, physical, and material culture can be the substance of knowledge, learning, and meaningful social mediation undergirds the "Civic Studio" concept.

In this pilot application of the Civic Studio concept, the Senior Seminar class (Art 401) is being held at this off-campus site. The Seminar course focuses on skills and issues pertinent to the practice of art. Students learn about photographing art works, making slides, artist and exhibition statements, galleries, studios project management, and audience issues. In presenting this exhibition the students have learned and implemented all components of putting together the exhibition as well as preparing the physical gallery space. The class, comprised of eight students, organized seven separate committees to complete the work of the of the Civic Studio.

In addition to this exhibition the Seminar group has presented three artist lectures. Two were co-sponsored at the Civic Studio with the Calvin College Visual Arts Guild: Patrick Collier on September 28th, and Tim Van Laar on October 29th. Both Collier and Van Laar were exhibiting at the neighboring Dynamite Gallery Project. The third lecture was by Daniel Loewenstein (who was in town to exhibit at UICA) and was presented at GVSU on September th 24th.

The Civic Studio project this semester is being supported by a grant from the GVSU Center for Philanthropy. Paul Wittenbraker is currently a GVSU Presidential Service Learning Scholar.
Projects and events from this studio