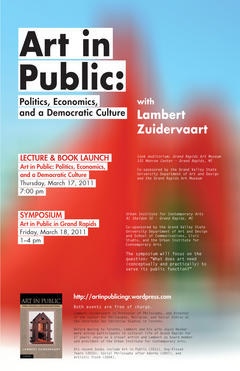 Art in Public in GR
March 17, 2011 - March 18, 2011
Art In Public In Grand Rapids was a book launch, lecture, and symposium with Lambert Zuidervaart connected to his new book "Art in Public: Politics, Economics, and a Democratic Culture" which had just been published by Cambridge University Press. The Symposium was co-sponsered by Civic Studio with the Department of Art and Design at GVSU, the GVSU School of Communcations, and UICA. Civic Studio opened a related exhibition during the Symposium called "Envisioning Art in Public".
The
project web site
has more information and related resources and documentation for these events. It includes information about the lecture, symposium, book, and its author as well as selected excerpts from the text and related news links.
"Art in Public" is Informed by Lambert's experience as a leader in the Grand Rapids cultural community as well as his expertise in the arts, humanities and social sciences. In his book "Art in Public" he proposes an entirely new conception of the public role of art with wide-ranging implications for education, politics and cultural policy.
"Art in Public" addresses one of the most troublesome public debates in North America — the ongoing controversy over government funding for the arts — and shows why the terms of this debate need to be changed. The book examines central questions about funding for the arts: Why should governments provide funding for the arts? What do the arts contribute to daily life? Do artists and their publics have a social responsibility? Challenging questionable assumptions about the state, the market, the arts, and a democratic society, Zuidervaart presents a vigorous case for government funding, based on crucial contributions the arts make to civil society. He argues that the arts contribute to democratic communication and a social economy, fostering the critical and creative dialogue that a democratic society needs.
The ideas in Zuidervaart's new book are applicable to the local context and current political times. Grand Rapids is engaged in significant experimentation and development in public culture that is outpacing the public critical dialog. In recent weeks public funding of the arts has come under renewed scrutiny and threats of elimination in both State and National governments. The public lecture, book launch, and symposium are organized by the GVSU Art and Design Department to acknowledge Lambert Zuidervaart's contributions to the broader discourse and recognize the connection to our city. The events are also a special opportunity to put these ideas to work in the development of the local public discourse.
Lecture and Book Launch
Art in Public: Politics, Economics, and a Democratic Culture
Thursday, March 17, 2011 7:00 pm
Cook Auditorium, Grand Rapids Art Museum
Symposium Art in Public In Grand Rapids
Friday, March 18, 2011 1-4pm
UICA (Urban Institute for Contemporary Arts)
Lambert Zuidervaart is Professor of Philosophy at the Institute for Christian Studies in Toronto and a member of the graduate faculties in theology and philosophy at the University of Toronto. He was recently appointed as Director of ICS's Centre for Philosophy, Religion, and Social Ethics. An accomplished musician and writer, Lambert is a founding member of the Toronto Beach Chorale. Before moving to Toronto, Lambert and his wife Joyce Recker were active participants in cultural life of Grand Rapids for 17 years: Joyce as a practicing visual artist and Lambert as board member and president of the Urban Institute for Contemporary Arts. His recent books include Art in Public (2011), Dog-Kissed Tears (2010), Social Philosophy after Adorno (2007), and Artistic Truth (2004).
Grand Rapids Art Museum, Urban Institute for Contemporary Arts, and the GVSU School of Communications.