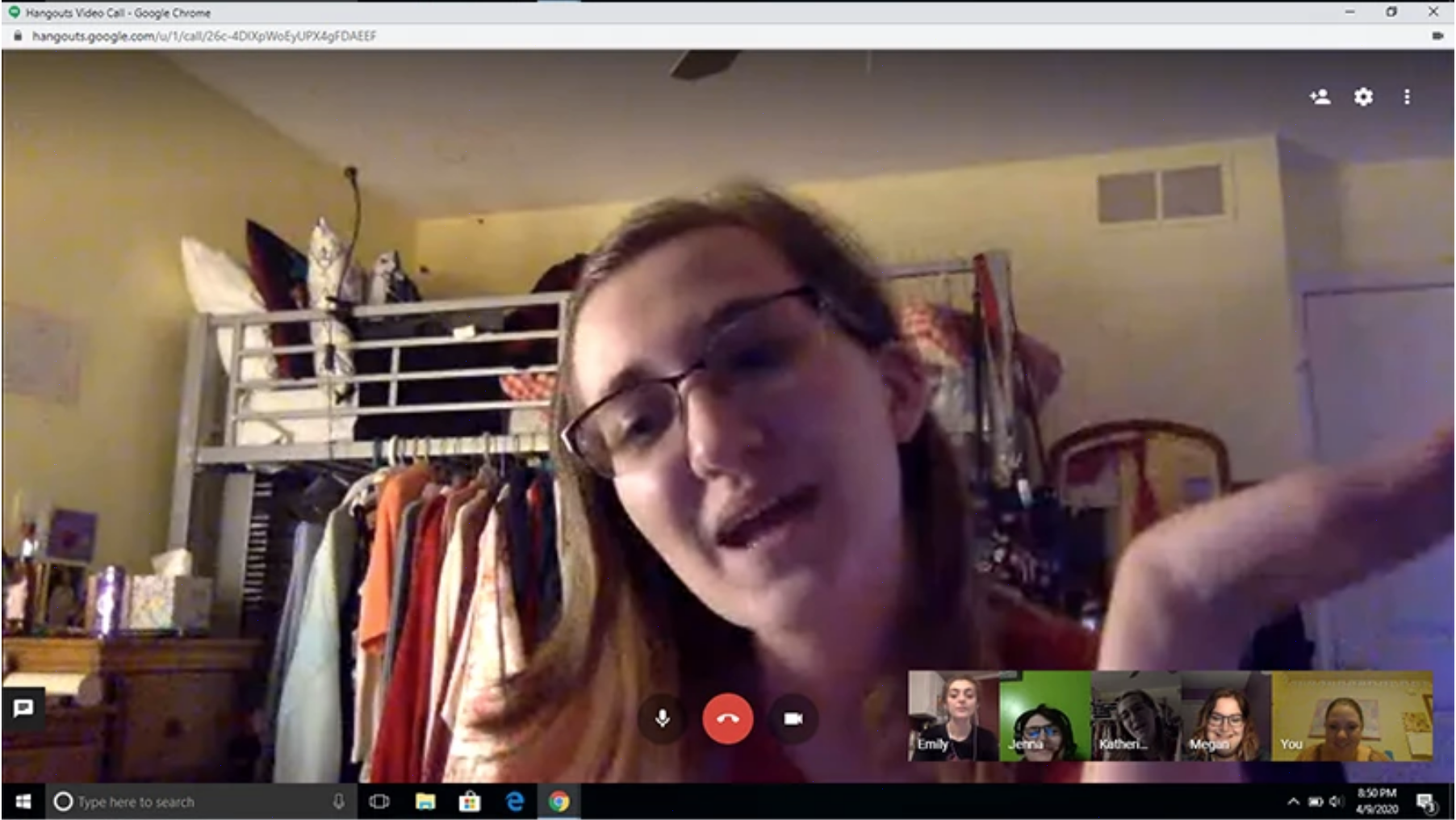 Digital Media Club
Samantha Smith

"The new normal" is a statement that has been thrown around more and more in the wake of the COVID-19 pandemic. It seems, however, that people are still searching for ways to find and hang onto the old normal everyday. While everyone has different types of "normal", there are some things that have become more and more important to us. Certainly our relationships with our friends and face to face interaction with them is included in this new definition. This idea of adapting something old into something new is what inspired Digital Media Club. The project aims to provide an outlet for human interaction while many people are self-isolating. By taking an hour or so out of the day to see others and discuss what interests we have, albeit over a screen, we can retain a little bit of humanity in these new and troubling times.

This project came out of Civic Studio at Grand Valley State University. In Civic Studio, there are two major pillars of focus; The Study of the Civic, and the Forming of the Civic. More simply, it means working with topics that concern a specific community and public spaces. Digital Media Club is meant to respond to the current COVID-19 pandemic and the isolation that we currently find ourselves in. By gathering together digitally rather than publicly, we can share what we have been using to entertain and comfort ourselves in quarantine. Because of this, Digital Media Club provides an opportunity to have gatherings that have been prohibited by social distancing guidelines. Whether it be books that we've picked back up, new songs or videos that we've come across, or our own personal works of art that we've made, it's exciting to be able to share what we're passionate about.

It is my belief that Digital Media Club was successful for the few meetings that it had. The project set out to create a reprieve to self isolation, and via group members, was able to extend beyond my initial reach and create a larger sense of the community. It was helpful to be able to hold onto that sense of "normalcy" that we are so lacking now in isolation. I remarked to Megan, one of the attendees, during the third meeting how nice it was to be able to see some of her new drawings. It reminded me of how we used to meet up almost every week and are no longer able to and she agreed. While there is still physical distance being maintained, the emotional distance of not being able to hang out with friends is being bridged.



Meeting One

1. Smoke Gets in Your Eyes and Other Lessons from the Crematory by Caitlin Doughty
2. A list of phrases related to losing loved ones
3. Music playlists curated specifically for quarantine
4. A card game called Calamity created for a thesis project


Meeting Two


1. Woodblock print of Frankenstein's monster with the text "I am alive"
2. Drawings of original characters
3. Homebrew worldbuilding notes for an upcoming Dungeons and Dragons campaign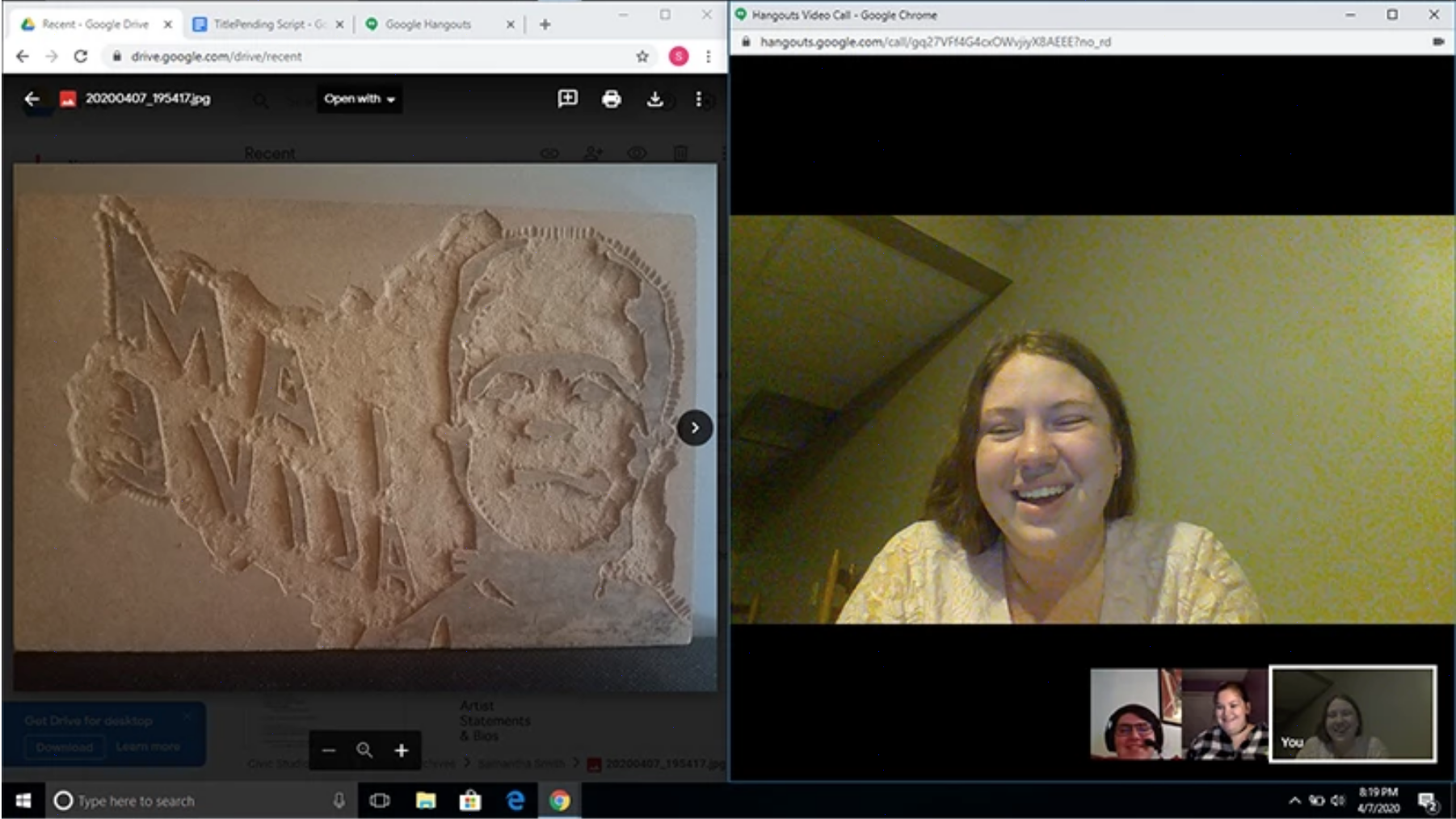 Meeting Three


1. Musical animatics for Hadestown and Beetlejuice
2. Sands of Time by Michael Hoeye
3. The Yellow Wallpaper by Charlotte Perkins Statue
4. A touched-up undercut using dog clippers
5. Stories about interacting with friends outdoors
6. Writings and drawings from when we were younger


Other projects from Remote Civic Studio