Fold Down

Decmeber 5 - 13, 2022

"Fold Down" was the final open studio event of the Alabama Street studio project. On view in the studio was a proposal for a multi-purpose market/cultural venue in the neighborhood, an overview of various articulations of "community" from diverse academic disciplines, an inventory of things in the studio's possession, a comparative analysis of local burritos, designs for Plaza Ponchos and a Forcefield Generator.

We also had on display the studio's new mobile unit. The mobile unit is a converted 1979 Coleman Pop-up trailer (Gettysburg model). It has been retrofitted to house and transport the studio tools and equipment. The unit extends technical support to future events and demonstrates the studio's intent to be temporarily sited.

Also on view was documentation of earlier studio projects and investigations including the swing thing, placements, displacements, the moving house, and projects generated by the civic studio department of forestry (in collaboration with Dan Peterman).



Works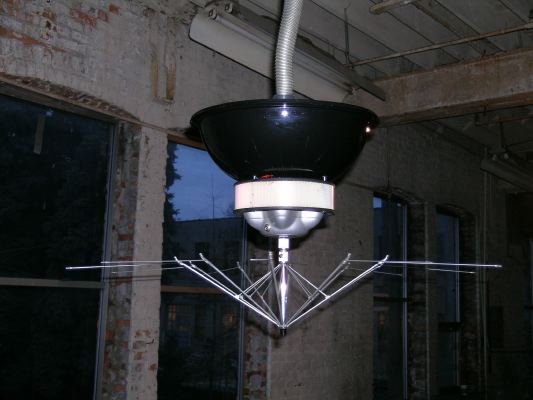 Force Field Generator
a device for creating a small enclosed space for heating purposes.
The generator creates a highly charged electric current that ionizes all gas particles in its path. The ionized gas instantly forms a complex electro-magnetic filed and becomes what is called cold plasma, "cold" simply meaning that the plasma does not require high temperatures to remain stable. The particles within the plasma interact constantly in a series of localized attractions and repulsions, creating a wall that is impenetrable to external, and what is important for our purposes, internal energy. This energy mirror can be used to contain heat, especially that generated by human bodies. By directing the electric current in certain directions we can create a force field of nearly any shape, and by regulating the intensity of the current we can create a field of nearly any size within the constraints of our power supply. A 120-volt charge from the wall outlet, for instance, provides enough power for this generator at its present height to create a stable cold plasma dome about fifteen feet in diameter.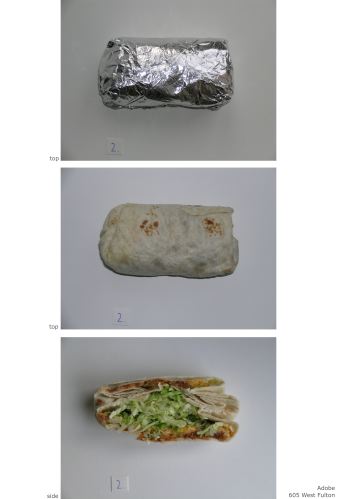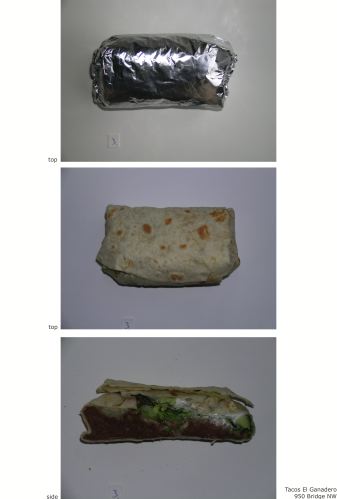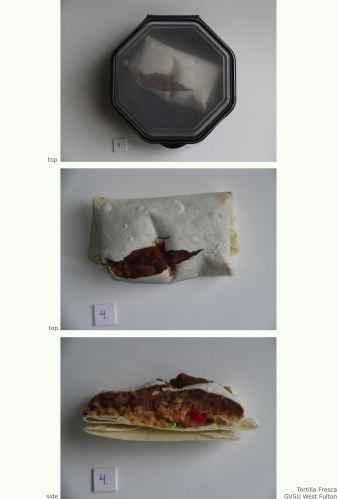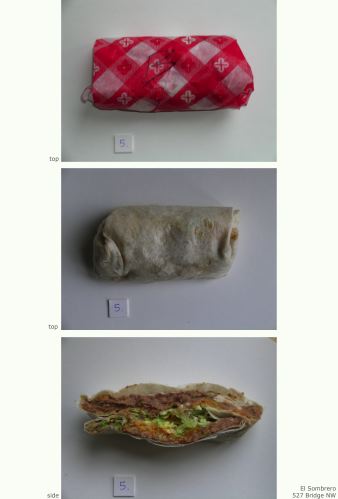 Burrito Analysis

An analysis of burritos from 5 establishments within 5 blocks of the studio on Alabama street.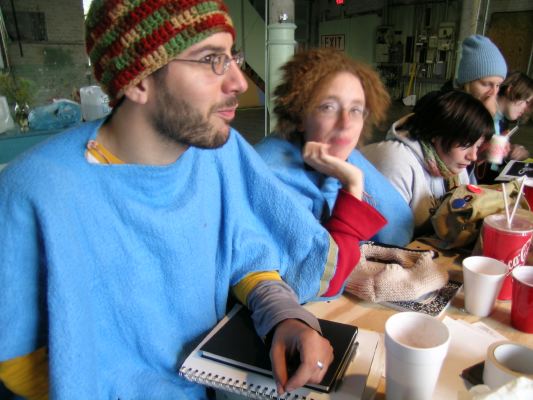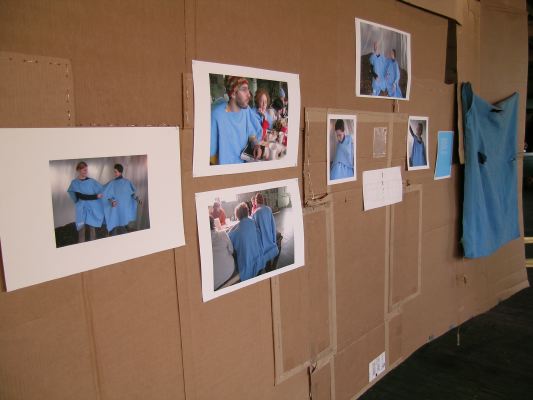 Plaza Poncho

Several projects in the Alabama Street studio involved ways of staying warm in groups. The studio space was huge and had minimal heat so warmth was a concern for us as the weather in Michigan changed from summer to fall to winter.
The ponchos are made in modular units. Each module is attatchable and detachable as the wearer decides to join-up with another person for shared warmth, communication, and space. The units attach with velcro fascening strips along the edges.
Plaza ponchos could be made available in public plazas in cities. Patio ponchos keep company warm in the suburbs.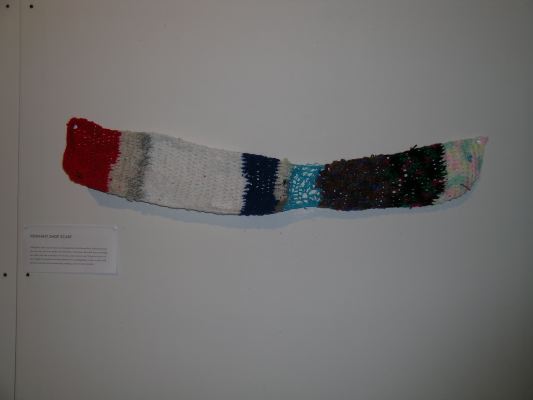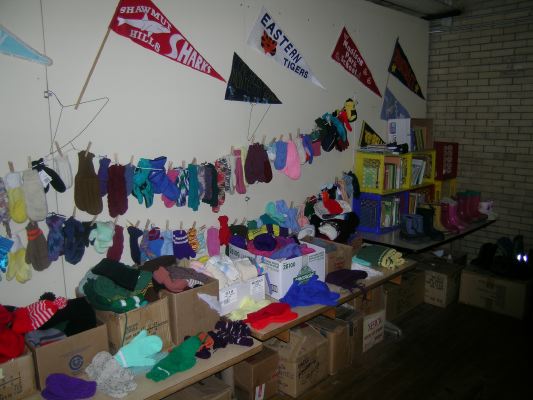 Pennant Shop Scarf

Odd gloves and worn-out scarves are discarded from the Pennant Shop collection because they are of no use to the public who need them. I took these discarded items; unraveling one white, blue and cream hat, one red and a multi colored scarf. Tying these pieces of yarn together I reused the unwanted materials by crocheting them to form a scarf. I will put the scarf back in the pennant shop, making a new item that is useable.
Amy Smyth
The Pennant shop collects and distributes clothing to students in the Grand Rapids Public Schools. Anyone with needs can take for free any item from the Shop located in the West Middle School complex. "Pennant" in the name refers to the display of school pennants from each of the schools in the Grand Rapids Public School Corporation.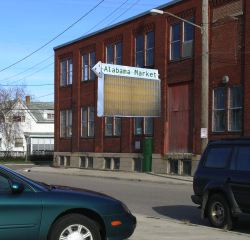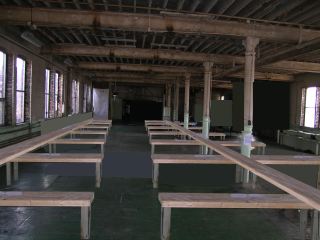 Alabama Market/Theater

Possibilities for the Use of the Alabama Street Building
Size and set-up of the building make it the ideal location for a market place. A market would benefit the community in a number of ways: It would attract people from other parts of the town to the area and draw new customers to the surrounding businesses. The community would benefit from the social aspects of a place for exchange, in a friendly shopping-environment with whatever goods participants put out for sale, from hand-made crafts to thrift furniture or clothes.
Markets remove the corporate element in retail. In a store like a supermarket we enter and make our purchases in a rather deprived and sterile shopping environment. At a market there is a diverse mix of people and personal interaction. Vendors are easily approachable and may be specialists for the products they sell. There will be social interaction between the vendor and customer. There is ample parking space across the street from the building, and variably the market could be extended to the outside and take the shape of a farmers' market during the summer months
The figures below are an estimate of how the building could be used, on the basis of the market as the main source of income.
Hypothetically the market could be held from June to November, on the first weekend of each month and twice in December to accommodate the Holiday season. The size of the building would allow approximately fifty sale stands or stalls.50 stalls at $20/stall: $1000 (maximum capacity)
25 stalls at $20/stall: $500 (minimum capacity)
June-December: 8 markets.
Total money generated per year:
$8000 maximum
$4000 minimum
THEATER SPACE
The building could also be used as a site for independent or community based theater productions. There would be a high seating capacity, and lots of space for storing props, as well as rehearsal. If the productions would take place in the summer, there would be no extra heating costs.
There could be 36 performances a year (six every month from April – September with the exception of the first week of each month, which is reserved for the market) at $10/ticket and approximately 60 people attending each show: Profit per year: $21,600
This sum could be used for rent and restoration, actors could be paid some money, and it would cover the cost of the productions.
OTHER USES
Community members have expressed an interest in using the space for private events, such as weddings, art shows (art students are frequently looking for venues for their exhibitions), community meetings and workshops (such as craft, dance, or theater workshops and performances.)
The events could take place in the last three weeks of each month.
Lease could be at $500/week.
8 programs a year: $4000.
In a careful estimate, the market with additional general leasing could generate $8.000 – $12.000 per year. This amount allows for monthly rent payments of approximately $700/months, and leaves at good outturn profits that could be used for building restoration or reimburses the organization or individuals in charge.
WORK TO BE DONE
In order for the building to be safe and accessible for the public, several improvements would have to be made:
-To make the building wheelchair-accessible a ramp could be built at one of the front entrances (possibly at the larger front door / former loading ramp)
-The restrooms on the second floor should be restored or a wheelchair accessible restroom could be built on the ground level, to close off the second floor for traffic.
-Heating could be an issue in the winter months, but as the figures show the building doesn't necessarily have to be occupied during the winter to cover the costs.
-The wall-paint has to be tested for lead; a new coating might be necessary. The legal issues include:
-Zoning for commercial use.
-Fire regulations.
-Patronage and financial accountability of the project.
-Hygiene regulations
For further information on markets visit http://
www.openair.org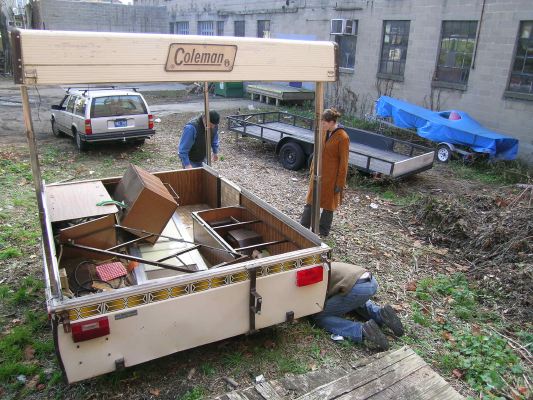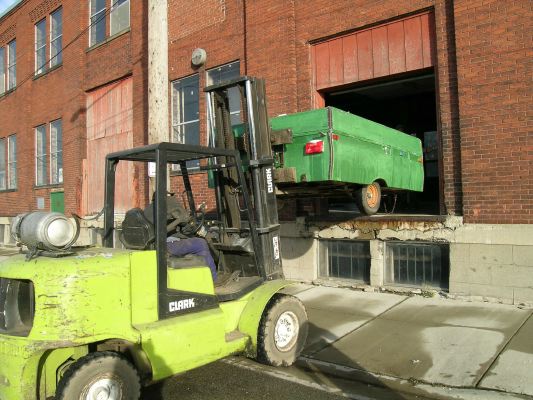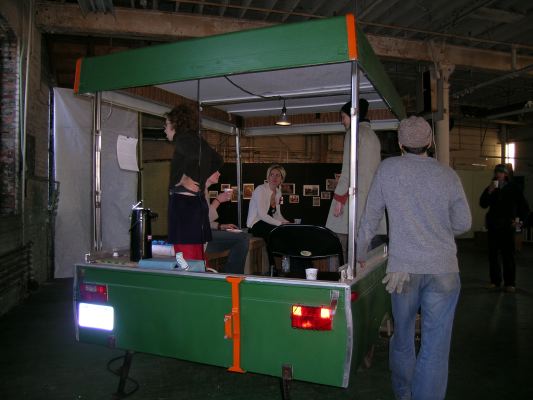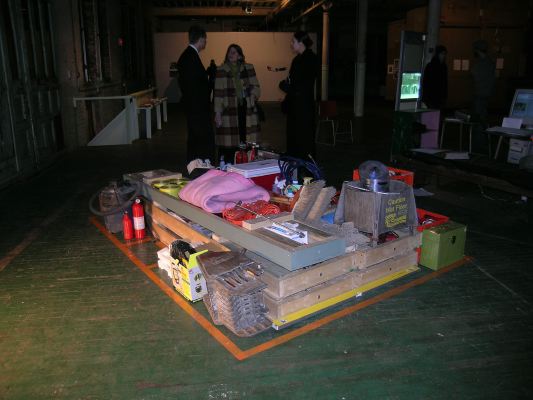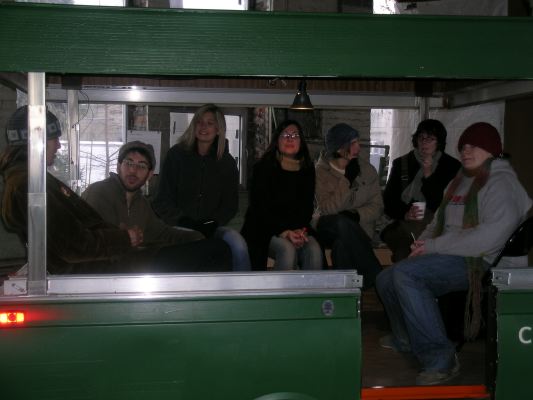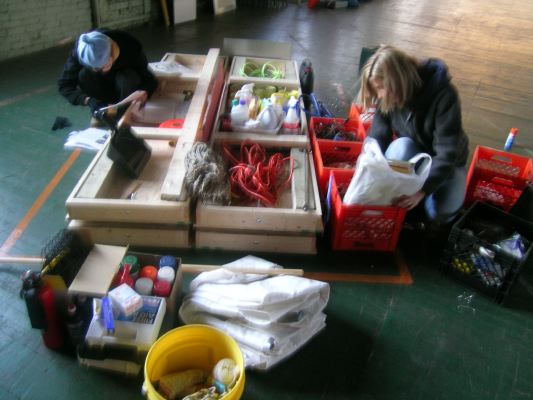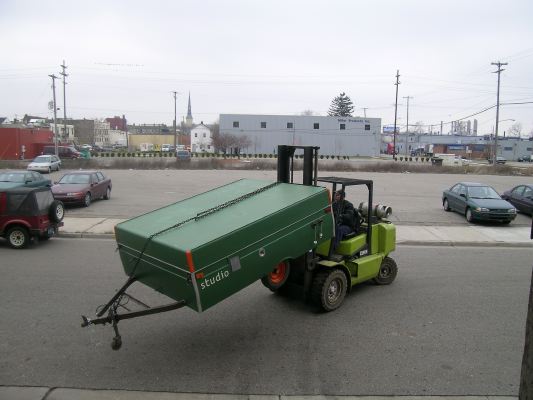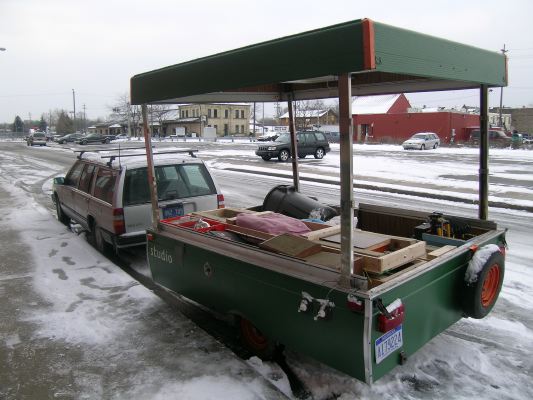 Mobile Unit

Despite the Western perception that most people dwell in urban areas, there are still many people throughout the world that live beyond city/town/village borders, far from centers of culture and activity. Though they might own a car, or have other transportation options, living a great distance from an urban center often puts these residents in a difficult position for receiving 'basic' services or cross-cultural contacts on a regular basis. Furthermore, the obstacles presented are not merely the result of a physical gap, but might be presented by an individual's family, tribal leader governing council, or formalized government. However, in countless countries, individuals, groups, and foundations have found creative and efficient ways to address these issues. By implementing mobile units that trek into areas of diminished accessibility, basic needs are fulfilled and more convenient systems of exchange are established.
Perusing Temporary Service's* website, which includes an archive of mobile units worldwide, one might view vehicles that offer medical services such as dentistry, surgery, abortion, blood transfusions, mammograms; or transports that offer books art shows, and movie screenings. Furthermore, units exist that will shred your confidential documents, power-wash your home, lead you in an exercise routine, and test radon in your workplace or home. The possibilities are endless. While some of the mobile units may appear more 'necessary' than others, each represents a unique service or experience and encourages new means of interaction and community. By purchasing a reconditioned Coleman Camper, the Gettysburg, the members of Civic Studio are seeking to engage these concepts of mobility and explore its positive and negative effects, primarily in conjunction with Civic Studios in the future.
Our immediate plan is to load the studio's tools, equipment, and tables into the camper and use it as a storage space, encapsulating the engagement of public art, community histories, and the role of the artist in it all. Next time, however, the Civic Studio members will be equipped with another tool with which to explore these ideas, the Gettysburg camper. While the 2005 studio may have an established location in Grand Rapids, the addition of a mobile unit will allow its members to transport the studio anywhere within driving or pulling distance. Undoubtedly, this affords greater freedoms in terms of physical space, location, and audience. Likewise, the portable element further distances the studio from an institutional setting. These freedoms could be both positive and negative, for with mobility, a whole new set of questions should be asked. Will we use the camper as a way to emphasize our transitional role within communities? Or might its mobility be exploited as a means to make fewer investments and discoveries in the neighborhood? Could the Gettysburg, as a quite small, movable unit, provide a more intimate, personal setting for situating community art projects?
Though relevant to the Alabama implementation, finding answers to these questions will be critical to the success of the next Civic Studio. Simply tackling the difficult issues surrounding public art is a challenge in itself; hopefully, the mobile unit will be a positive addition to this engagement.
*For more information on Temporary Services and the Mobile Archive, see http:
www.temporaryservices.org/mobile_struct_rsrce.htm
l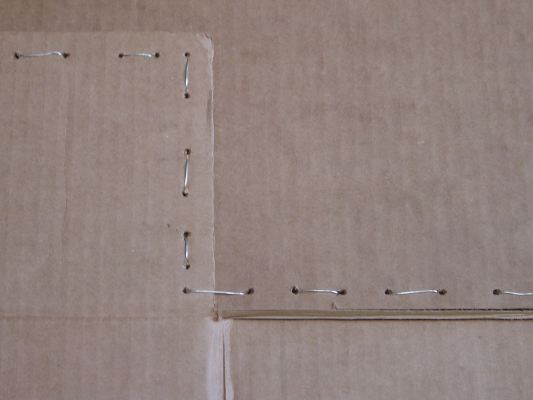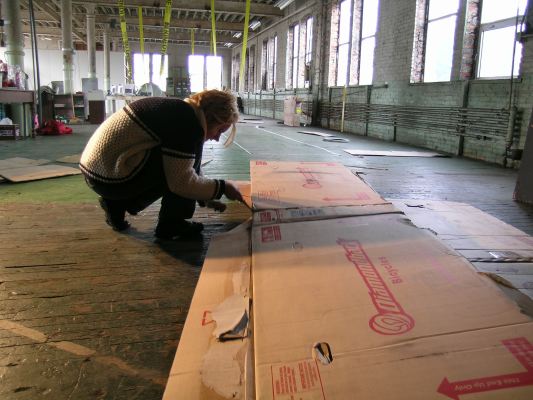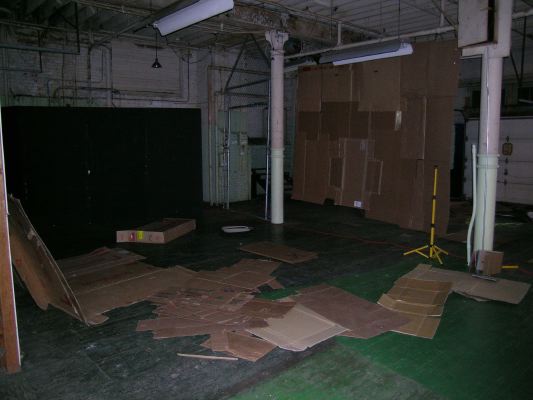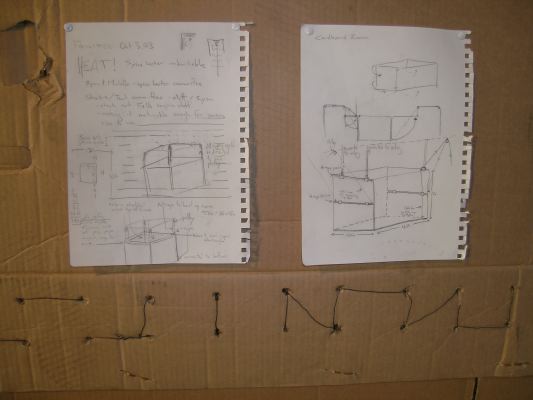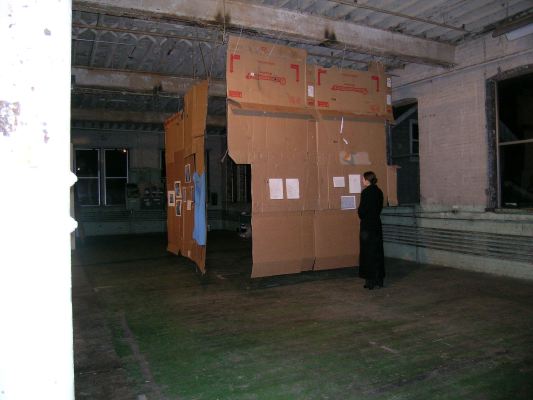 Cardboard Walls
Other projects from Alabama St. Studio