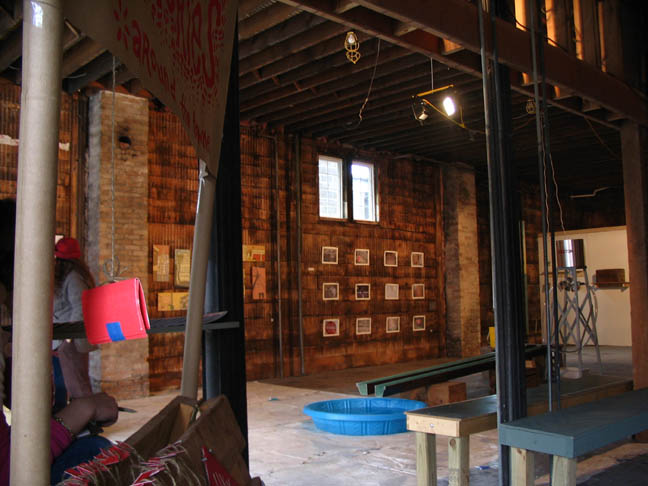 Towne Club
2005




This collection of work constructs tangible and visible expressions, which dissect the use of material forms in public space. Water, brands, soda, and social structures can be a means for individual or social personification. These forms mediate concepts of corporate identity and its correlation with recreation and refreshment as well as the structures in which towne and club are defined.

Water is a sign of civilization, health, recreation and nature. The municipal cycles of water and purification inform civilization and pleasurable activities. Water flows through the regatta just as it flows through filters in the water purification plant. Recreational uses of water mediate social gathering around common interests. The original implementation of the Towne Club logo on the hydroplanes was used as a marketing campaign to activate their logo branding in a public space. The activity of the regatta encourages civic fun over consumption. Flowing in the river, on the roof, through the water plant, and down the hill, water moves in its natural and municipal cycles.

The physical implementation of brands, icons, and logos invade our public spaces. Consumption and commerce are a substitution for civic engagement; we affiliate through what we buy. Individual action against branding in public space can be taken in the form of the futile efforts embodied by the text on the roof. Companies develop identities that are defined by logos that saturate our public space. The nostalgic Towne Club logo references the feeling of a refreshing past. Words related to the meanings of towne and club can be manipulated and reformed into demarcation of public and private space. Words conglomerated play with concepts of cultural, human, and municipal ideas.

The enjoyment of brand name soda has become a symbol for a moment of respite and nostalgia; the rituals of drinking soda establish ideas of delight and gratification. Rebottling soft drinks in branded bottles puts the control of production into the hands of the consumer. The product and bottle can then act as items that blend together public and private space, while providing the same idyllic refreshment and enjoyment. Production and the subsequent distribution encourage sharing and hospitality between producer and consumer. Engaging in such an exchange of beverages one inquires about the processing of water, issues of health, cleanliness, and the marketable appearance of an object.

Social systems and organization are formed and regulated with definitions of towne and club. A town is a densely populated area, larger than a village and smaller than a city. A club is an association of people with common interests who pursue activities of their organization. Rules, interests, and architectural structures set their regulations.

Experimentations and interactions with imagery, culture, and consumption teach us to make inquiries into where the boundaries between towne and club lie. These investigations work on the scale of experience to dissect the nature of our interactions with the public and private.

-Becky Siegware





Project Documentation

Towne Club Window Signs

Jenn Schaub
Todd Freeman Neil Hubert
Emily Egan
Unlike the comprehensive global distribution of current soft drink companies, Towne Club merchandised its product in small franchised distribution centers. A number of people in the local community recall trips to the Towne Club stores.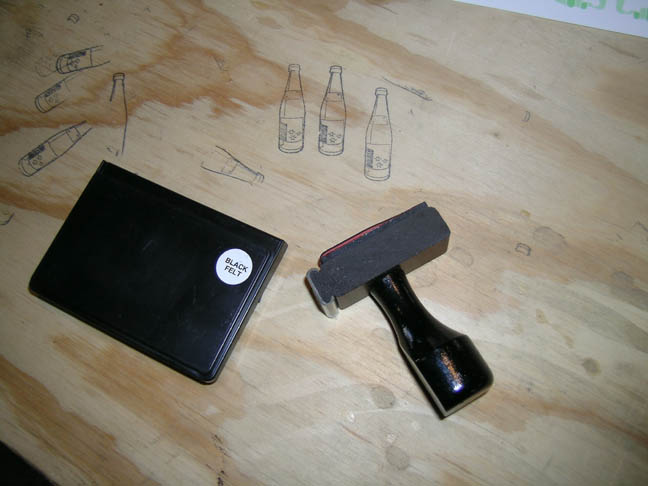 Rubber Stamps

Rachel Jaques Neil Hubert
Stamp "towne" on one hand and "club" on the other, creating a branded public space on your own body.

Hydroplane Cutouts

Neil Hubert
Jesse Hora
Zona
Anne Hale
These two-dimensional cutouts are based on an actual 70s-era boat decorated with the old Towne Club logo, a photo of which was discovered by studio members.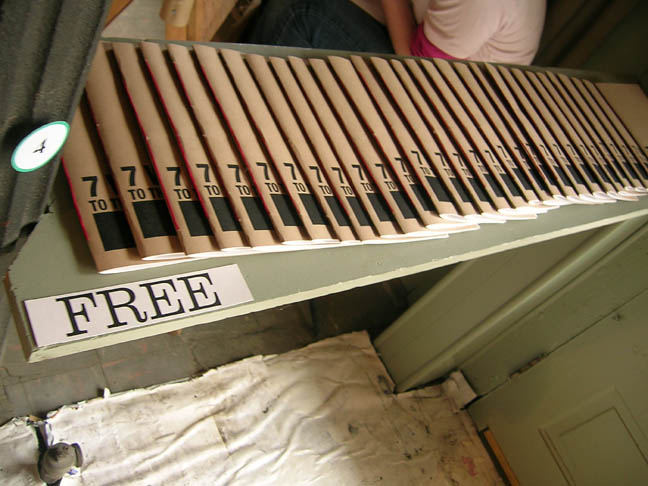 7 Ways To Throw A Show

Jenn Shaub
Neil Hubert
PDF Download
These various means of exhibition and display promote an active engagement with civic life through the presentation of visual works. The manual provides technical information about a range of display techniques.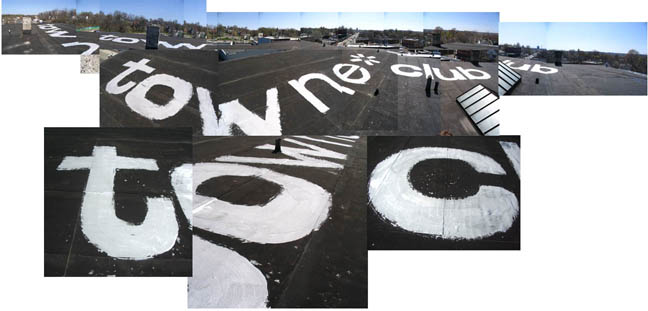 Roof Text: Towne Club

Jesse Hora
Neil Hubert
Zona
Jenny Pope
Chris Gray of the City of Grand Rapids Planning department has been a regular source of visual information about the various Civic Studio project sites (Chris's assistance was instrumental in the Stockbridge to Scale project on Bridge Street and the Placement project on Alabama). The images his office provided for the Creston area were a great source for research, imagination and understanding of the neighborhood.
While browsing the map, studio members saw text that was strangely out of scale. After further study it was determined that the phrase "by love serve one another" was painted in very large letters on the roof of a senior service facility in the neighborhood. We loved the act of public display and various implications for the text. It served as a good discussion point throughout the studio about issues the studio was investigating and considering.

Letterpress Prints

Jenny Pope
Rachel Jaques Emily Egan
Jules Schmuker Jenn Schaub
These words expand the meanings of "towne" and "club" into other demarcations of public and private space and concepts of cultural, human, and municipal ideals. The prints are free to take, and the viewer can request any combination of words for a custom print.

Electronic Derivizzle

Jesse Hora
Recombines visuals from the towne to investigate notions of town and club.
Creston Space Paintings

Jenn Schaub
These paintings reduce the space and neighborhood into a series of iconic candy-colored images.
Prints

Jules Schmuker
Double-layered prints with images of town and club which can be recombined by the viewer.
Agraffiti

Ben Schaafsma
Seeds packaged in sackcloth are juxtaposed with images of the local water treatment plant. Through pinhole in the packing crate, a video plays.

Material Culture

Kate Aughey Becky Siegwart
The displayed objects were found in the low-ceilinged attic space above the studio. It's unclear if this was a living space or merely one for storage.

Creston History Texts and Interviews

Studio
Edited by Kate Aughy and Anne Hale
These texts, on display in the history room, were compiled and edited from local research.
Blickley Block Research
Creston interviews

Temporary Club

Bill Witte
Ed Benjamin Annamarie Buller
Anthony Stepter
Bill Witte came into the old Rock Shop looking for connections to a hobby from his past. Earlier in his life he had been involved with rock hunting and had all his own rock cutting and polishing equipment. Over time he sold off his machines and lost touch with others who shared his interest.
Bill approached the old Rock Shop in search of a group or person to assist him or provide him access to equipment to refinish several rocks he never got around to completing. In the following weeks, the Studio contacted local professors and tow clubs in the area. The idea was to create an opportunity for Bill not only to refinish his rocks but also to make new contact with others who shared his interest.
After contacting the Indian Mound Rock and Mineral Club, a group located nearby in Wyoming, Michigan, the Studio located several individuals involved in the group who were interested in providing assistance. One of these, Ed Benjamin, had the tools and a mobile set up that allowed him and Bill to meet at the old Rock Shop and talk shop, as well as finish some of Bill's projects.
Bill and Ed got together at the Studio for a brief three hours, but the "rock hounds" had the opportunity to work together and share their interest with each other and the Studio members in attendance. These gentlemen are different ages, from different backgrounds, and have different levels of experience with rocks, but were brought together by a shared passion for the hobby. If a club is an arrangement of people coming together to pursue similar interests is a club, then this meeting of two individuals to share interests and ideas formed a temporary club.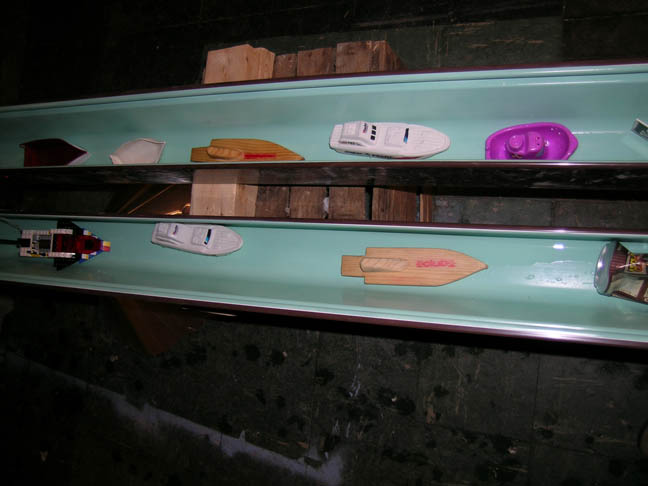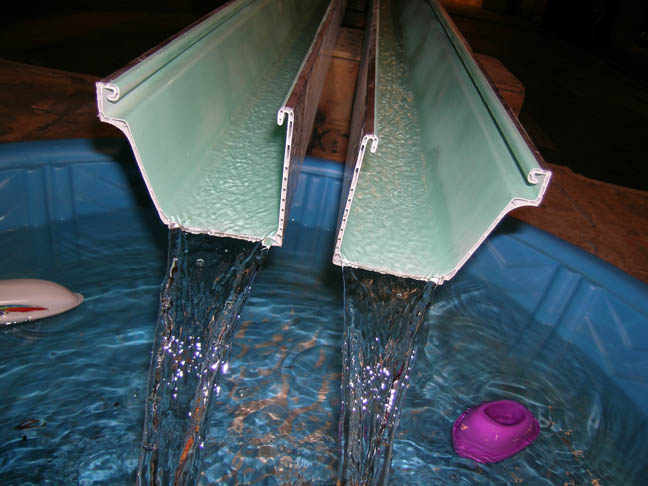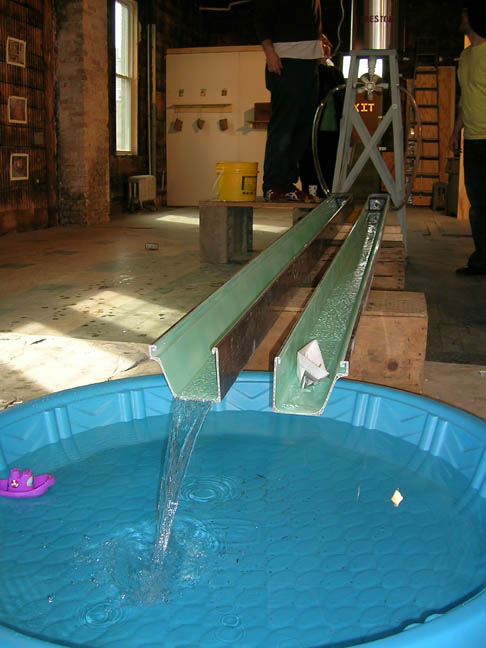 Regatta

Studio
Ben Schaafsma George Wietor

In a further appropriation of the Towne Club hydroplanes, the project pits Towne and Club against one another in a race to the finish. The functionality of the water race borrows from the flushing system at a nearby water treatment building. Viewers are invited to provide their own buoyant objects to race.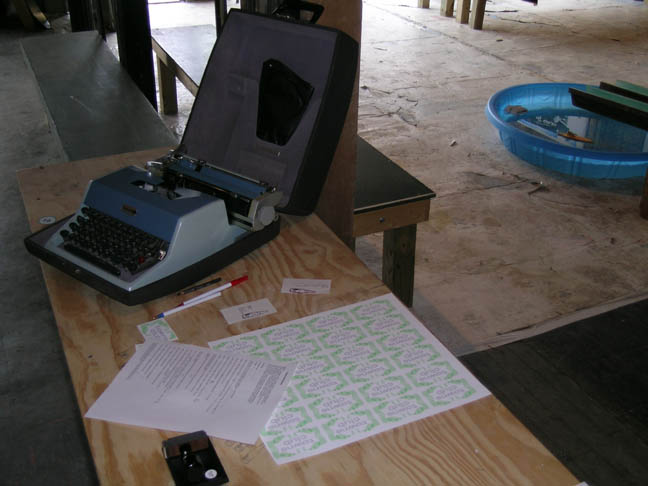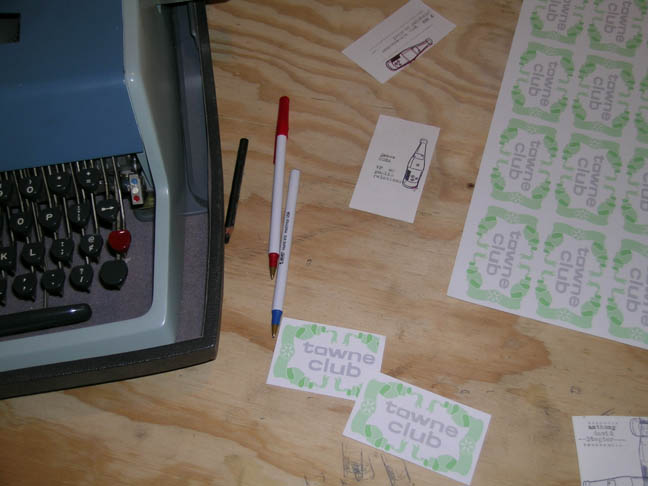 Membership Cards

Rachel Jaques Jesse Hora

Membership in the club is open. No selection process or fee. You may sign the register and obtain a card.






Towne Club Research & Sign
Studio
Annamarie Buller Anthony Stepter Anne Hale
Visitors were invited to take a few minutes and contribute to studio data by being interviewed about their
towne and club. What structures form them? How willing are we to engage with clubs?
Towne Club Pop

Ben Schaafsma George Wietor
Using a recipe that was found on a disaster planning website, studio members attempted to make their own homemade Towne Club soda to fill our found bottles with.
Our attempt yielded the unpalatable, cloudy stuff you see in the photo above (we think we added too much yeast), but we offer the recipe in case the viewer would like to experiment with making their own soda.
Click here to view the soda recipe at
alpharubicon.com

Creston Favorites Map

Becky Siegwart Kate Aughey
The viewer is invited to mark their favorites on an aerial map of the neighborhood with color-coded pins,
then fill out an accompanying form.

Border Images
Rachel Jaques

What is the nature of public and private space? What is the relationship between these two different kinds of spaces? Can we tell where one space ends and another begins?

These pictures document the border between Creston High School and the Kent Country Club. The border is marked by a fence, which in different places is covered in vines, runs through the shade of trees, or is the only visible thing separating schoolyard grass from Country Club grass.

For much of the border, the area around the fence (on the club as well as the town side) is unkempt -- the ground is unweeded, or is covered in pine needles and trash. The fence is a hurricane fencing, which is impertinent and allows a person to see everything on both sides without crossing the line.

The existence of a border tells us that there is something significant about the two spaces, that the two spaces are in fact different. You can walk the fence line and see the shysical presence of a border that is otherwise social. Does the nature of borders tell us anything about the relationship between realms of "towne" and "club"?





Vacation Posters

Jenny Pope
Neil Hubert
These images self-reflectively inquire about what about Creston interests the studio. Not being residents,
but guests, the things that attract attention bring up engaging questions.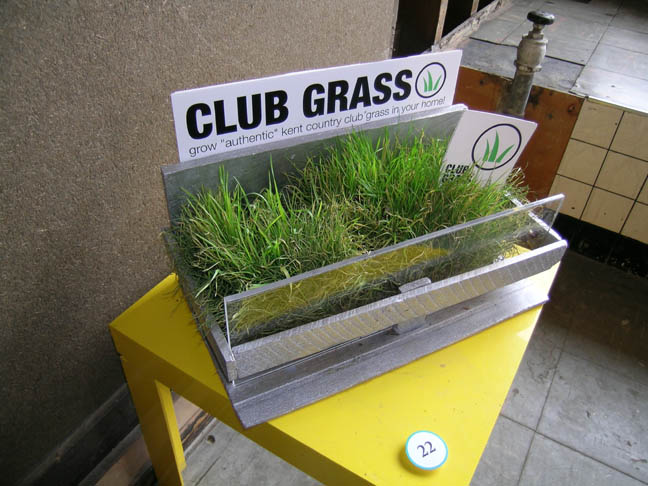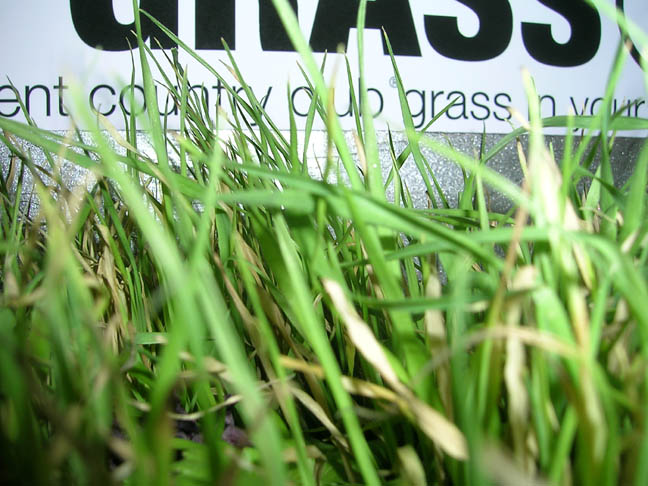 Kent Hills Turf Kit

Anthony Stepter Emily Egan
Golf courses preserve open space, but for the exlusive use of a game that uses a lot of space. The upkeep of courses requires a disproportionate amount of water resources. How does this concentration of resources
and intense control of an environment highlight the value of experience? How portable is this experience?
How accessible?

Steps For Stories

Anne Hale
Stories were collected from various people in the neighborhood, followed by a guided walk the night of
the opening. The walk stopped at significant landmarks, where the stories were retold. Participants wore
a "Walkie Talkie" wristband -- a nickname for the project.
Other projects from the Creston Rock Shop